Pre-accredited training

The Albury Wodonga Volunteer Resource Bureau (VRB) is a registered training provider with Adult Community and Further Education in Victoria (ACFE). We acknowledge this department for the ongoing support for the education needs of Volunteers. Our service covers both Victoria and New South Wales, in the area centred around Albury-Wodonga. The VRB offers training workshops for organisations to help you manage your volunteers to realise their full potential.
We can tailor training sessions to meet your specific needs. For bookings or more information please contact us or email our Training Officer.
Some of the Education and Services we offer are:
Cultural Awareness Training
A program designed for organisations working with staff, volunteers or clients from a Culturally and Linguistically Diverse background. Topics include: What is culture, diversity, multicultural and global citizenship and effective communication with CALD clients.
Attracting and Retaining Volunteers
This workshop will cover how to make your organisation attractive to new volunteers and members. Topics include: attracting and retaining volunteers, supporting and recruiting volunteers and how to keep them.
Health Benefits of Volunteering
Find out how volunteering can benefit your health and well-being!
The Role of a Volunteer
How to build the capacity of your organisation by using volunteer skills and talents to ensure sustainability. Why volunteers are an integral part of strengthening and shaping the community that we want to live in. How to demonstrate volunteers are supported by dedicated staff,
members and the Board in their efforts to participate in community life according to their personal preferences and motivations.
Governance Training
Governance training helps not for profit organisations develop their governance knowledge and board management skills. It is aimed at voluntary members of small to medium boards and management committees. Topics include: Roles and responsibilities of a Board, financial issues, risk management and legalities.
Know your Gizmo
A program running over a few weeks where you can bring along your iPod, camera, smart phone, laptop – any Gizmo you would like to use to its full capacity. Sessions will be 1 hour face to face with a volunteer student.
Interact online with your children, grandchildren and friends. Learn how to upload and download photos, make a Facebook account. Get the most from your smart phone and ensure your GPS gets you to your holiday destination.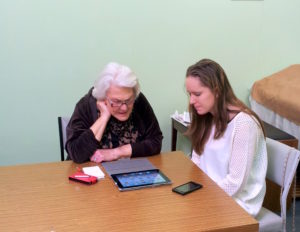 Click to see more Know Your Gizmo photos
Also see…
All photographs are the property of Albury Wodonga Volunteer Resource Bureau