Training and consultation is offered to managers and coordinators of volunteers in community based organisations. We host interactive workshops and seminars to discuss your organisation's needs, to build capacity and to create an excellent volunteering experience.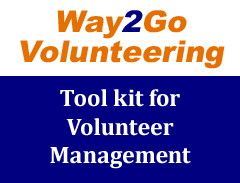 The VRB also offers the Way2Go Toolkit, a volunteer management resource designed by us to provide information and tools for the development and management of volunteer programs.
This toolkit includes over 30 modifiable templates that relate directly to the National Standards for Volunteering and is available Australia wide.
For more information about this toolkit visit our Way2Go Toolkit page.